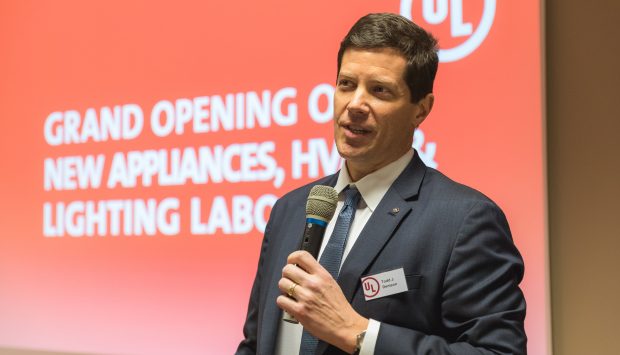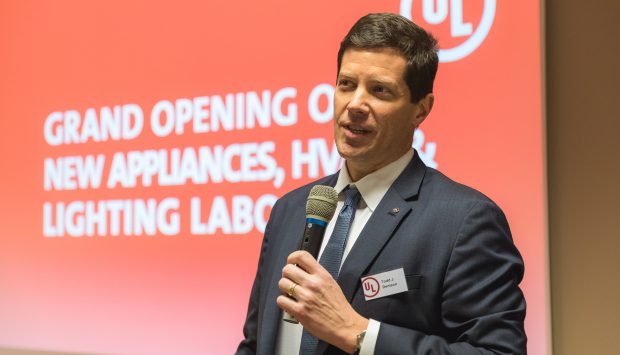 UL opens new Center of Excellence laboratory for appliances, lighting and HVAC in Italy
MILAN/ CARUGATE, February 1, 2018 — UL, a global safety science organization, today celebrated the Grand Opening of its new Carugate-based center of excellence: a new laboratory for testing lighting, appliances, HVAC and gas products and equipment. The opening highlight was an official ceremony, in which the Mayor of the city of Carugate – Mr Luca Maggioni – took part, along with representatives from UL and many customers from the different industries.
UL's Carugate center of excellence, which sits on a 2,500 square meter site, will serve as a hub for the European market and is entirely dedicated to safety, energy efficiency and performance testing. The new facility, which integrates the UL lighting laboratory (formerly based in Burago di Molgora), a lab dedicated to appliances and HVAC products, and the brand new laboratory for gas equipment, benefits from the combined expertise of these complementary services to offer high-tech solutions and a highly skilled staff of engineers and technicians.
The Carugate laboratory is now open for testing, and offers all of the safety marks required to access global markets, and to verify lighting and energy efficiency performance. Accepted product categories include luminaires, street-light, lighting components, dishwashers and all domestic appliances, commercial coffee machines and all commercial appliances of the HO.RE.CA channel; ovens and gas equipment; heating and air conditioning equipment.
The new facility dedicated to the testing of gas equipment can test 43 different kinds of gas, and represents the most innovative element of the center and the first UL laboratory in Europe dedicated to gas equipment. Manufacturers can now have very different types of products tested and certified locally for the global market and for Europe, all in one central location.
"With this new center of excellence we are further expanding our testing and certification capacities in Europe to improve how we serve market demand," said Todd Denison, vice president and general manager for UL's Appliances, HVAC and Lighting division. "The creation of a European hub to cover all the testing and certification needs of the AHL sectors allows us to offer high-performance services to European manufacturers locally, which simplifies the process by providing testing and certifications from a single source and at one location."
"UL is a worldwide leader in appliances, HVAC and lighting products testing. This laboratory, matched with our world-class engineering expertise, will increase our capability in the EU, and help our clients access and enter new markets around the world," says Marcello Manca, UL's vice president of government & industry affairs for Europe.
Photo: Todd Denison, vice president and general manager for UL's Appliances, HVAC and Lighting division.