UL Demko Supports Young Entrepreneurs
Young Enterprise Denmark is arranging the Danish National Championship for young entrepreneurs; UL Demko supports the program and Finn R Andersen from UL Demko is one of four judges in the Science and Technology track.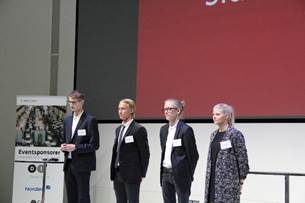 Many of the teams have compliance issues and need to test and gain certification of their products to get to attractive markets – some are likely to become customers of UL once they get their businesses fully up and running.
The competition started with approximately 4.000 participants in approximately 900 teams. The teams qualify through local and regional competitions to be one of the 42 teams in the final in Copenhagen, Denmark. The teams compete in one of four tracks: Science & Technology; Society & Globalization; Business & Service or Trade & Skills. Teams compete in all the classical business activities such as business plans, strategy, on-stage presentations, exhibition, organization, product etc. UL supports the Science & Technology track.
The winning team in the Science & Technology track had developed a controller for height adjustable tables connected to a laptop. In Denmark and Europe most office desks are height adjustable. Based on user priorities the table will encourage the user to sit and stand at intervals significantly reducing absence from work due to back problems. They further are selling a mat to ease standing at the desk, similar to mats used in a production environment. The report, exhibition and presentation made by the team was at the same level as any professional company and they have already sold approx. 20 units. Good job! They need help with compliance with European Directives and CE-marking.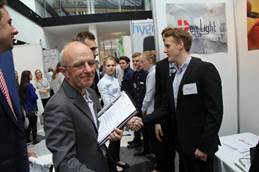 This was however not quite enough to win the competition. The winning team had developed an interactive sink for kindergartens. With the use of games, videos etc., the sink helps children with hand sanitation. This team will participate in the European championship in Berlin later this year. This product will need to comply with CE-marking directives as well.
The second place went to a team from the Faroes Islands who developed a cosmetic series based on materials from nature, sourced from the local Faroes environment. This team is already in business making money. The third place went to a GPS tracking device, mounted in the saddle tube in bicycles. In Denmark and Europe we have many bicycles and many very expensive bicycles up to €5k – €10k. This type of tracking device can be sold with a very attractive profit.
Working with young entrepreneurs my own private and all-determining question is: "Where would you put your own money?" My personal favorite team was a team that had developed detest equipment with build-in LED. The team still had a long way to go and was not yet ready to win – but that's where I would put my money.
Author: Finn R Andersen
Inspection & Field Services Director, UL